Hokushin district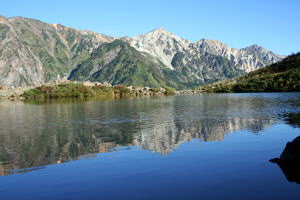 uHakubav
In summer you can enjoy a variety of activities such as trekking or rafting, paragliding,
balloon walk overlooking the flower garden-mountain landscape alpine plants bloom.
In winter,you can enjoy is winter sports such as skiing, snowboarding, snowtrekking.
The "Nagano Winter Olympic Games" held in 1998 olympic Ski jump studium is
landmark of Hakuba,and you can stand to jump stand point.


---
uTateyama Kurobe Alpine Route Kurobe Damv
Kurobe Dam is the biggest dam in Japan, which was constructed in 1956 over
7years construction period. It costed 51.3billion yen and total number of workers
Excessed over 10million. Arc height of the dam is 186 meters.
Tateyama-Kurobe alpine route leads you from Ogisawa in Nagano Pref, to
Tateyama-station in Toyama Pref, using bus, cable car and Ropeway. This route
Go through center of Japanese highland, which provides magnificent alpine view to the
Tourists. In spring, touristsf bus go through gBig Snow Valleyh, between snow walls over
20meters height.
---
uZenkoji Templev
Zenkoji is said to have been established in 7th Century.
Its prime statue is not opened to the public, which is said oldest Buddafs statue in Japan.
Main hall of the temple was constructed in edo-period and designated Japanese National
Treasure. For over 1000 years, Zenkoji have the worships from the whole country,
regardless of religious secy.

Toshin district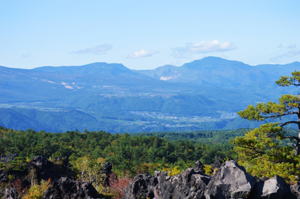 uDemon extrusionv
Mt.Asama exploded in 1783 and big amount of lava flow was flew out from the mountain.
Lava flow appeared bizarre landscape. Lave spreads the width 3km distance 12km,
formed a 2,7km corridor of strange stones.
---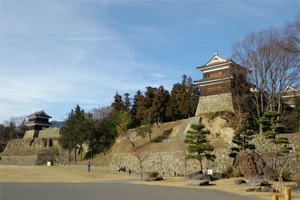 uUeda Castlev
Ueda Castle was built in 1583 by Masayuki Sanada, who was one of most famous
Military commanders in Warring period. Now a days over 1000 cherry trees are planted
And it was become the oasis of Ueda citizens.
---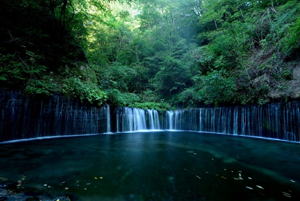 uKaruizawav
In Meiji-era Karuizawa was introduced as a summer resort to the resident foreigners.
Karuizawa has flourished as the leading resort in Japan since then.
Old Mikasa Hotel is designated Important Cultural Properties, was opened in 1906.
In Old Karuizawa area there are many well established stores, and in front of Karuizawa
Station, there is famous outlet shopping mall, Karuizawa prince shopping mall, consisted
of over 200 famous stores.

Chushin district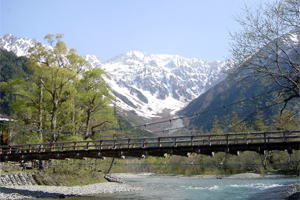 uKamikochiv
Kamikochi was introduced by Walter Weston to the world, father of Japanese Modern Alpinism.
In 1915 Mt.Yakedake nearby Kamikochi exploded and lava flow dammed
Azusagawa River. Taisho pond and unique landscape appeared at that time.
Kamikochi is now the holy place for Japanese alpinists.
Kingdom of snow and rocks provides magnificent alpine view to the tourists. Recommended
view point is the Kappa Bridge over Azusagawa River.
---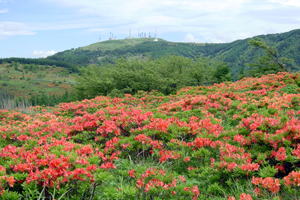 uUtsukushigahara plateauv
It is a plateau land that extends to an altitude of 2000 marea 6km.
Large panorama of 360 ‹overlooking such as Mount Fuji and the South Alps and Central Alps
Northern Alps, Yatsugatake,Mount Asama will expand from the summit of Ogato(2034m).
Alpine plants such as Rengetsutsuji,Nikkokisuge, Matumushiso will bloom pretty flowers in
summer.

---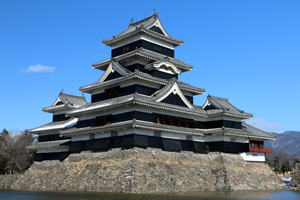 uMatsumoto Castlev
Matusmoto Castle was built in 1590, the oldest extant castle in Japan,
maintain original wooden interiors and external stonework. Matsumoto Castle
is also called Crow Castle, due to its black exteriors.
It was escaped from destruction in Meiji-era by the efforts of many Matsumoto citizens,
And now is the symbol of the city.

Nanshin district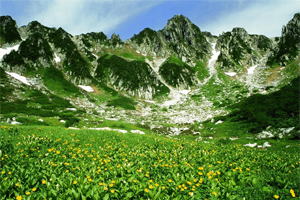 uCentral Alps Senjojiki Carlv
Senlojiki Carl Is located in the Central Alps just below hokendake,the altitude 2610m,
it is abowl-shaped depression that could be due to erosion of the ice in the Ice Age.
This name is given in the sense that the tatami-mat 1000 shekels .
Spring mountain skiing, summer bloom alpine plant, autumn stunning leaves,
winter is pure white snow attract many tourists and Alpinist.
Tourist visit "Senjojiki Carl" using Roupe way,elevation difference over 1,000 meters.
Also enjoy climbing to "Mount Kisokoma" and "Mount Hoken" in the Central Alps highest
peak 2956m.

---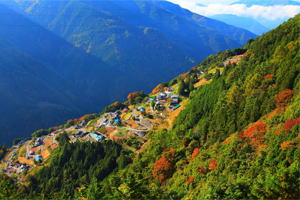 uSimoguri of villagev
2009 was elected to the "100 best Sato of Japan", is located in the land of deep mountains
and dark valleys, located at an altitude of 800m ~ 1000m.
Is called the "Japan of Tyrol" is unexplored regionin theunexplored region.
It lined fields, houses in the slope of the maximum inclination 38 ‹.
---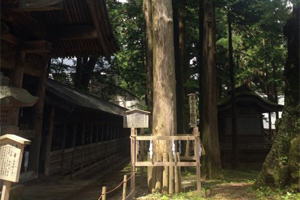 uSuwa of Onbashirav
Once in seven years, it is held a big festival to build a fir tree, called Onbashira,
in the four corners of the Suwa shirine. Suwa shirine consists of four shrines.
2016 is carrying year of Onbashira festival and over 200,000 people will participate.
16 Fir trees, over 16tons each large trees cut down and carry out of the mountain
only manually and stand at the four corners of each four shrines.Onbashira Festival
is the impressive event, in which you can feel the spirits of ancient Japanese.
---
Nagano specialty products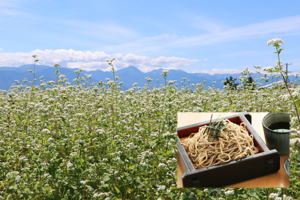 uShinshu buckwheatv
Naganofs cool climate is suitable to grow buckwheat. Buckwheat have been cultivated
From the old days.
Birth place of current Sobakiri is in Josho Temple in Kiso, there is still a record that
Shinshu Soba was served in 1584.Soba is very popular Japanese slow food and Shinshu
Soba is No1 brand in Japanese buckwheat.
---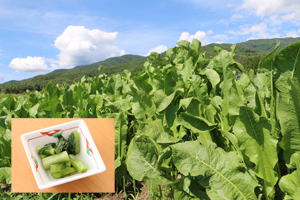 uNozawanav
It is said the chief priest of Kenmei Temple in Nozawa Onsen area brought Nozawana
from Osaka in 1756.
Pickles made from Nozawana is also called Nozawana or Nozawanazuke. which is very
important food stuff during long winter in Nagano, as there was no fresh harvest in winter.
Please enjoy its unique taste and flavor.
---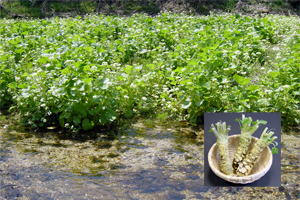 uWasabiv
Wasabi is Japanese horse-radish, and Azumino-city is the biggest production area
of Wasabi. Wasabi needs cold and clean water, and Azumino is rich is clear springs
suitable for Wasabi.
Sushi,Shinshu-soba,Sashimi all need Wasabi as the seasoning.
Landscape of Wasabi farm is also very beautiful, rich in fresh green of Wasabi and
clear water flow.